Many people around the world have the capacity to buy a luxury vehicle, but only a few have the flair and vigor to keep them closer to their heart in a stylish manner.  You may have seen some of the most creative car garages, but following car parking slots are sure to turn your heads with their cool and trendy designs.
Porsche Garden Garage
Parking an opulent sedan safely in urban areas is a major issue that most of the owners have to face every now and then. Here is an underground parking that literally swallows your vehicle to save your garden space for growing plants on its roof and giving a face-lift to the courtyard. The Garden Garage features a platform that makes use of hydraulics to swallow and lift the vehicle safely. You cannot get more creative and elegant than this to park your vehicle.
Living room parking by Jon Ryder
The idea of parking your car in the living room may appear freakish to many, but you cannot wholly rule out the idea of decorating the living space with a luxury sedan. For it'll not only let the owners keep their opulent vehicles closer to their heart all the time but also give a whole new dimension to the home décor. This is exactly what Sheffield chap Jon Ryder did with his garage by converting it into a comfy living room, featuring a TV, comfy seating and lined floor, to park his Ferrari Spider.
Hydraulic Car Lift by Takuya Tsuchida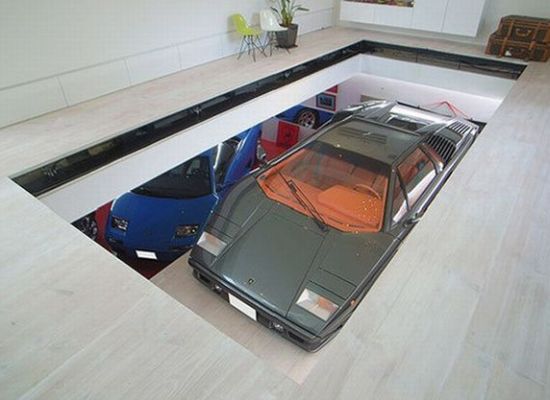 Commissioned by a Japanese owner to park his Lamborghini Countach Anniversary edition, designer Takuya Tsuchida has developed a nine car garage that features a moving platform to move cars up and down using a hydraulic system with just a push of a button. The automobile elevator moves the car right into the living room so the owner can have an eye on his cherished vehicle all the time.
Cave car parking
Dubbed as "Man Cave," this is a 2,300 square foot car parking by Gordon Robinson that parks a 1941 Willys Pro-Street hot rod, 1966 Chevrolet El Camino and 1965 Pontiac GTO to attract visitors. Robinson spent $30,000 to install an exclusive hydraulic lift to move cars in and out of the cave. In addition, the Man Cave includes a big-screen TV and four restored gas pumps, together with a gun vault and a bar to enhance the inimitable car park.
Dream Garage
If above parking designs are not good enough to park your vehicle and enthrall your whims, check out the gorgeous garage by California based Ferrari Owner, Holger Schubert, who constructed a 10 foot long and 15 foot high bridge with a hydraulic ramp to park his Ferrari in the living room of his Brentwood apartment.  The living room garage features a glass wall offering a mesmerizing view of the ocean. Apart from Ferrari 512 BBi "Boxer," the living room garage also houses a bookcase, flat screen TV and trendy furniture to sustain modern décor.