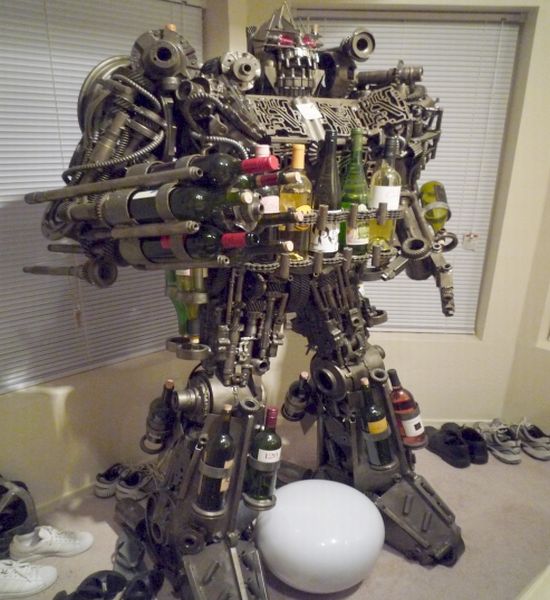 For all of you Transformer movie fans who also have considerable penchant for weird stuff made of scarp auto parts, here we're going to introduce you with something that will combine two worlds, indeed three, into one: autos, artwork and wine. However, the only thing is you need a big space for this. Yes, half tone scrap metal Transformer that have scores of auto parts – from automobiles and motorcycles – doubles as a wine rack with a capacity to hold 32 bottles at a time, depending on the size of bottles.
The amazing piece of art comes from the auto parts that otherwise are left to rot and finally decay in the junkyard. However, this huge transformer bears an immortal form with various parts chopped, artistically welded and meticulously joined to make something that everyone can appreciate and look at with wonder waiting eyes. All the parts then dipped into a solution to neutralize and to put oil, grime and chemicals off before it's being painted in gunmetal grey and then clear coated.
The ridiculously cool, six-foot tall Optimus Wino rack has LED lights that have been painstakingly wired into parts from leg to up into the torso to the top of the shoulder, which makes it even more desirable for an astute autoholic and a connoisseur of wine.
The wine rack gives you a chance display your costly wine collection in a different way. So, if you are one of those with liking for weirdly cools things, Transformer wine rack is an ideal choice for your living space. And, if you do wanna have this wine rack at home, it has been listed on Craigslist for a cool $7,000.