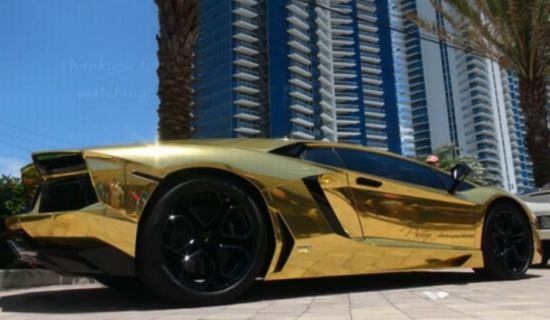 2012 Lamborghini Aventador LP700-4 is something that every auto nerd will die for drive; let aside the prospect of owning one. The Italian bull is a sheer badass machine and is quite popular among celebs and power loving people. In any avatar, it gives goose bumps with massive power and speed it offers.
However, here you just check out the video we have included at the end of the post submitted by YouTube member Vodeezz who attended the official ceremony of the Project AU79 whereby the first 2012 Lamborghini Aventador LP700-4 to be foil-wrapped in chrome gold.
Just to recapitulate what this car actually offers to its fans, it comes equipped with a big 6.5 liter V12 engine that roars with massive 700 ponies and generates a maximum of 690Nm of torque. Engine is mated to ISR transmission that transfer power to all the wheels, and makes it sprint from 0-100mph in just 2.9 seconds before touching the top speed of 350km/h. This beast has an ultra light body and weighs merely1,575 kg with its power to weight ratio at 2.25kg/hp.
Here is a video, which shows that someone has wrapped it in gold foil. Well, Lambo is the hearbeat of millions of fans and it looks as simple and aggressive as it gets.