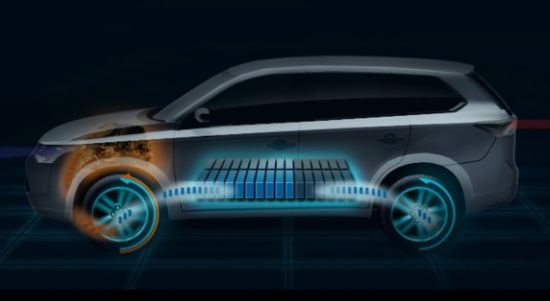 Mitsubishi Outlander plug-in hybrid is in news for a long time and doesn't need an introduction as the crossover SUV was already seen at the 2009 Tokyo Auto Show in the form of Mitsubishi Concept PX-MiEV. However, the Outlander plug-in hybrid SUV that Mitsubishi claims as the first permanent four-wheel-drive electric vehicle in series production, is coming to 2012 Paris Motor show and is expected to go on sale in US by the end of 2013 or in the first quarter of 2014. It is also confirmed that the plug-in-hybrid will go on sale in Europe in 2013.    
The plug-in hybrid will feature a full time four-wheel drive system that gets vital juice from the electric motors. The one of a kid plug-in hybrid (PHEW) flaunts front electric motor, rear electric motor and front mounted engine. As a result, the PHEW will have three modes of driving: all electric, series and a parallel hybrid mode. The all electric mode will use the front and rear electric motors to propel all the four wheels, in the series mode electric motors will be assisted by the gasoline engine generator and parallel hybrid mode will have electric motors juicing up the gas engine.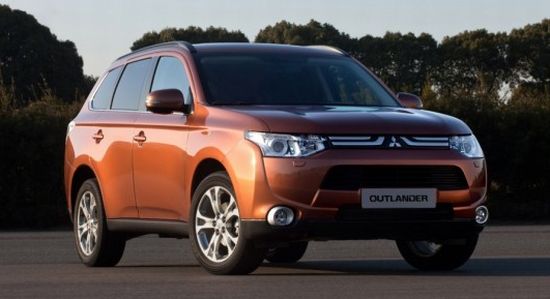 There is no word on the engine or mpg equivalent ratings from the manufacture so far. However, when the vehicle was first revealed in 2009, it was equipped with 1.6-liter DOHC gas engine added with electric motor at front and rear end each that power all the wheels. One can expect the similar figures i.e. a driving distance of over 500 miles with tank full of fuel and electric batteries charged which amounts to an expected fuel economy of 151mpg and a CO2 target below 50 g/km.
Keep your fingers crossed as we'll keep you updated on the same.
Via: Insideline