Audi's initiative to produce a small family car has worked out brilliantly for them and auto industry as well. The third generation Audi A3 has hit the market with a strong high torque two tier TDI Clubsport Quattro engine of 224 bhp and 450 Nm. The body styles offered in Audi A3 include two and four door hatchbacks, the two-door hatchback is a sedan and the four-door hatchback is convertible.
The engine is efficient enough to reach from zero to 100 km/hr in just 6.6 seconds and it can reach a top speed of 240km/hr. The Audi A3 is a 3-door model with a length of around 14 feet and 6 feet height.
The headlamps are designed with new LED technology as well as xenon plus units. As far as the looks of A3 is concerned, there are a lot of improvisation in the design of the car. The Audi A3 has been given an envious touch with a six-corner single frame radiator grille.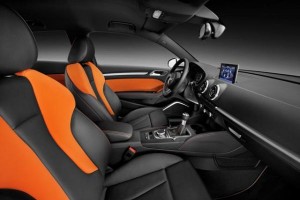 Interior
As far as the interiors of Audi A3 are concerned, it is designed with a blend of class, comfort, and new technology. It provides you with a sporty highly attractive ambient luxurious variant. The steering wheel comes with three to four spokes. Audi has also provided shift pedals and multifunction keys in the steering wheel. A 3D graphic effect is generated in the driver information system display, which is placed between two large round instruments showing all information. The rear interior of this car provides enough space for three persons to sit comfortably. The equipment used in Audi A3 includes manually controlled air conditioning system, highly adjustable front seats, on board computer with efficiency program and a complete package of safety restraint system.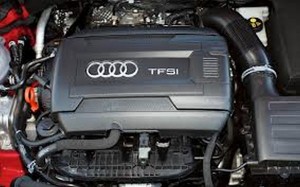 The beast
The Audi A3 comes with two engine variants such as gasoline or 2.0T and a diesel or TDI engine. The 2.0T engine provides you with a turbocharged 2.0-liter four cylinder that generates 200hp and 207 lb ft torque. The front wheel drive offered with this engine is a six speed manual transmission. However, a six speed dual clutch and automated manual transmission is also available in this engine.
The TDI engine offers you with a turbocharged 2.0-liter diesel four cylinder that generates 140 hp and 236 lb ft torque. The TDI engine offers an incredible fuel economy as well.
The Audi A3 provides front seat airbags, full-length side curtain airbags for the safety of the travelers. It also has whiplash reducing front headrests, antilock brakes and stability control to ensure your safety during any driving condition.
Pros
Improved appearance
New engine line-up
Highly fuel efficient when comes with the diesel engine
Spacious and well designed interiors
Powerful engine
Sporty and stylish looks
Cons
Pretty expensive for hatchback segments
Inadequate rear seat space for taller passengers