Carmakers across the world nowadays are designing and developing vehicles, which are not only smooth to drive but give high mileage too. Due to the soaring fuel prices and environmental concerns this approach does makes sense. The 2014 Chevrolet Cruze Diesel is a diesel variant of Chevrolet's Cruze lineup, which not only gives excellent mileage but is also a great car to drive.
Achieving the magical number of 46 mpg, which has been certified by EPA as well, is no small feat. As far as mileage is concerned, this car ranks number one in the US in "non hybrid" category. Let's take a brief look into this sedan's specs and find out what all it has to offer to the end customer.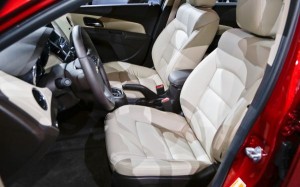 Externals
The 2014 Chevrolet Cruze Diesel has an overall length of 181 inches and is 70.7 inches wide. This car comes under the category of compact cars and is a good choice if you are looking for car with superb drive comfort and fuel economy. This sedan is available is several attractive colors such as Red Hot, Silver Ice Metallic, Rainforest Green Metallic, etc.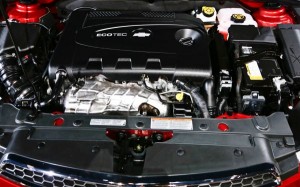 Internals
The 2014 Chevrolet Cruze Diesel is powered by 2.0 liter, 4-cylinder engine, which generates 148 horsepower running at 4000 rpm. Considering the size and the segment this car belong to, the figure of 148 horsepower is not very impressive but still the overall driving pleasure is good enough. This car can accelerate from zero to 60 mph in just 8.6 seconds.
Transmission and other features
This car is equipped with 6-speed automatic transmission and is basically a front wheel driven vehicle. As stated before, the mileage of this car is world class. As per the company, the 2014 Chevrolet Cruze Diesel can give a mileage of 27 mpg in city while on highways the mileage can go as high as 46 mpg.
This marvelously designed sedan can go as far as 700 miles on one time full tank, which is not only quite impressive but makes this car stands apart from the lot. This is for sure that if you buy this car, you are going to save lots of money on fuel expenses and your number of visits to gas station shall decrease considerably
Price and Availability
The 2014 Chevrolet Cruze Diesel is available at a price of $25,695. The best part is that this car is under company warranty for 3 year or 36,000 miles so you don't need to worry about maintenance for quite sometime.
Verdict
This diesel version sedan from Chevrolet is worth buying and this is for sure that it won't dig a hole in your pocket compared to other cars in the same category. The closest competitor of this car is the 2013 Volkswagon Jetta TDI, which is also an excellent car but lags behind Cruze diesel in terms of mileage and powertrain performance.