After a two year wait, the Tesla Model X was finally unveiled in California by Elon Musk, CEO Tesla. The man and the machine complimented each other on the stage. Here are a few features that make this car a brilliant choice.
Safety
The safety features as emphasized by Elon Musk is the most important in a vehicle. The Model X, as claimed by Tesla is the safest SUV so far. The SUV scores a five star in all the categories laid for safety. The damn machine is capable of saving you from biological warfare! At the touch of a button, the car will go into "Bioweapon Defence Mode" and its inside will be safe from a Bio-weapon attack.
Speed
Everybody is probably most interested in the speed of a vehicle, out of all the spectacular features. The Tesla roadster and the Model S have not disappointed us, and there's no reason to expect any less from the Model X. This vehicle has two variants 90D and P90D, both with a 90kWh battery. The maximum speed is restricted to 155mph. The exciting part is the acceleration, which is 0-60 mph in 4.8 seconds and 3.8 seconds for 90D and P90D respectively. If you wish to beat the Porsche 911 Turbo, the P90D can still be upgraded to do a 0-60 mph in 3.2 seconds!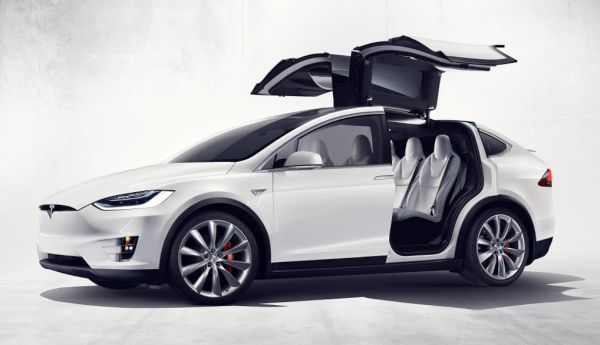 The windscreen
Well, the windscreen of the Model X is such that we couldn't stop talking about it. The windscreen in this Tesla SUV is a never seen before feature in a passenger car. The Screen extends above the seats of the driver and the front co-passenger. It's tinted on the top to block the distracting glare that would hurt the eyes. Believe us, it's a marvelous view through the screen especially when you drive in the mountains.
Space
The clever design of the vehicle features the battery under the car, so there is plenty of space in the bonnet. The boot is spacious and the third row of the seats can fold flat, to give more space. You can store some stuff under the seats as well. The model X is the first electric vehicle that can tow 5,000 pounds approximately. The seating inside the vehicle is extremely comfortable and spacious.
You can take a fully charged P90D Model X up to a distance of 250 miles and a few miles extra in case of the 90D. Do we need to say anything else about this feature rich, sexy, electric SUV?
Source : Blog-EspritDesign.Com