Love to spend hours under yours and other people's car? There's no need to crawl under the car, into all the dust and getting a backache in the end. With the best mechanics creeper, there's no need to creep underneath your vehicle any more. You can just slide in and slide out easily. The padded or contoured design provides huge comfort to your back, and allows you to work for a long time at a stretch without feeling the fatigue. Avoid spinal problems by investing a mechanics creeper. Check out our picks, first a few tips to help you buy the one which would suit you the most:
Tips to buy the best mechanics creeper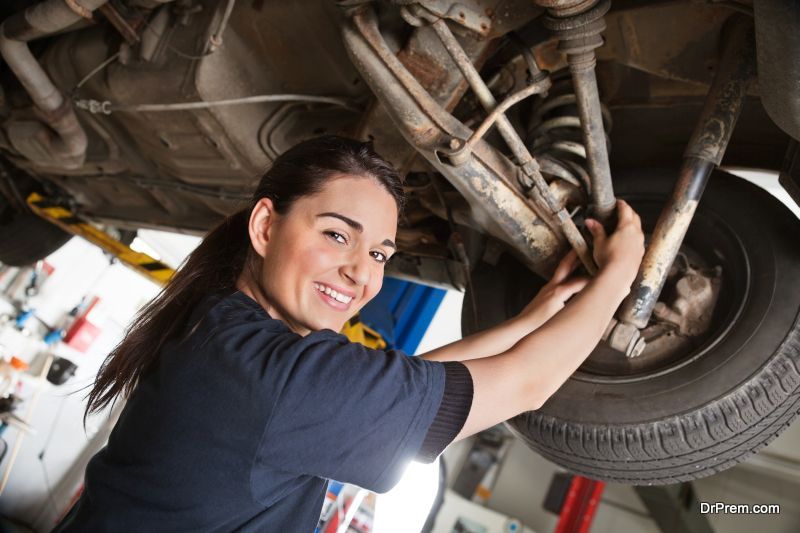 Material: The material matters a lot. Creepers made of plywood do not last very long. Plastic ones are affordable, but the quality is mediocre. The best mechanics creeper is the one which has a steel frame. It is quite sturdy and long-lasting.
Mobility: You have to consider your garage's floor before buying a creeper. If it is made of Asphalt, then you should buy a mechanics creeper which has bigger wheels, otherwise, a creeper with a smaller wheels is sufficient.
Portability: If you are a professional mechanic, then you may have to carry it in your car to help a stranded customer. So for you, the best creeper ever is the one which will fit in the boot of your vehicle.
Comfort: Padded creepers are the best, for sure, as they can give comfort to your spine. However, if you're buying a plastic one, buy a contoured one instead of flat.
Clearance: You can't ignore the clearance factor. A low clearance creeper is best if you work on cars, and a higher clearance creeper will suit if you work on giant trucks.
Tips for safety
While working under the car comfortably on the best creeper ever that you have just bought, you have to set up some additional stands, just by chance the jack falls.
Wear adequate head and eye protection.
Never put your tools upon your chest. Put them on a separate tray or on the tray which is integrated into your height adjustable creeper.
Make sure that your workplace garage is safe, and no car runs over your feet.
Store the creeper in a safe place, especially if you work from or at home, or else it may become the favorite toy of your kids.
Best mechanics creeper: products
Lisle 94102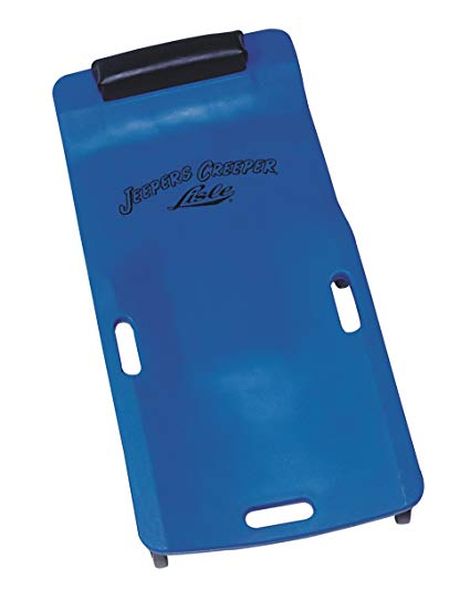 This is considered to be a leading mechanics creeper. It is two inches longer than rival creepers. The company designed this optimum creeper after testing on differing body types. It has high quality casters/wheels and 7/8-inch floor clearance. The design ensures trouble free maintenance and operation. It is resistant to grease, fuels, and other solvents. Cleaning will hardly take up any time. Comfort is the byword of this best mechanics creeper. Comes in a range of colors – red, blue, black, and others.
Bone 6031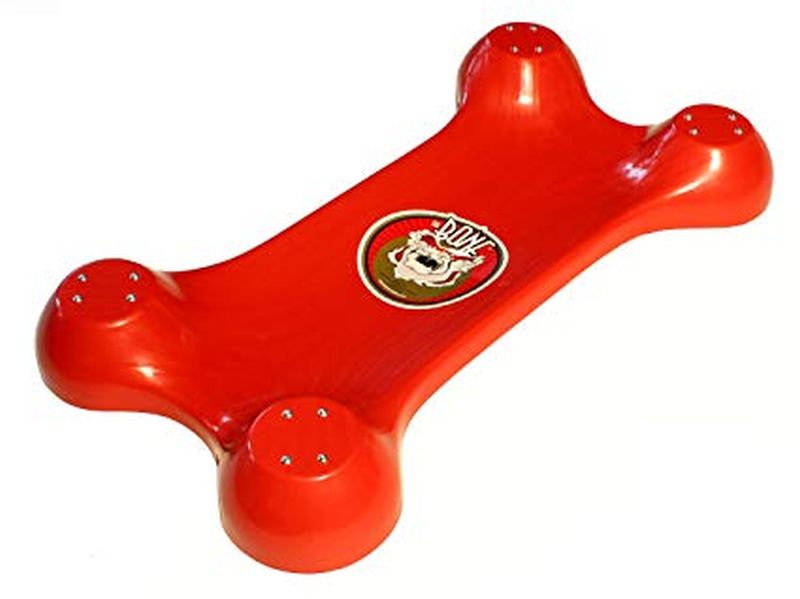 The Bone's shape is quite unique. It has large and wide wheels which allow it to roll over anything – grates, drop cords, loose pebbles, cracks, or gravel. As you may have guessed, this best mechanics creeper is the best for a garage which has uneven floor.
Weight is 130 lbs on every wheel and has 1.75 inch clearance. The tires are soft and grippy TPE tires. However, it's not for you if you're more than 6 ft. tall, but it is surely great for an average person. Its winged design makes it stylish as well as efficient.
Some find the headrest a bit uncomfortable, but you can try it out before buying to judge for yourself.
Craftsman Creeper Seat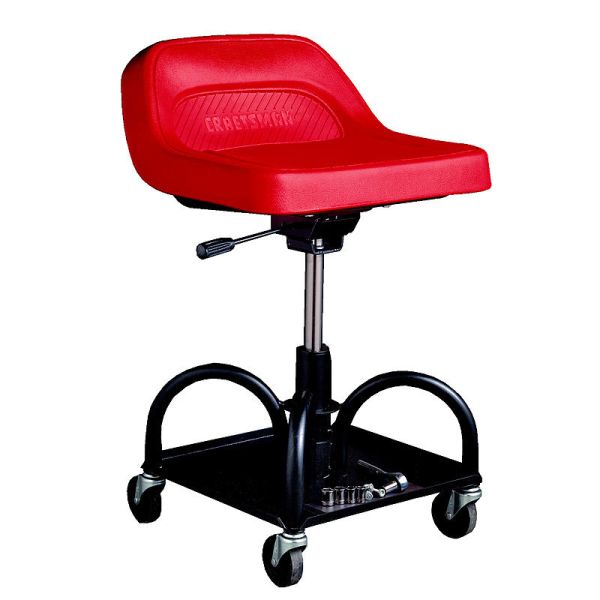 This is one of the best mechanics seat 2018, though it is a little pricey. The high price point may be justified by the tubular construction of the creeper seat, as well as a better seat support. It is a sturdy seat, and is much less likely to flex or bend after prolonged use.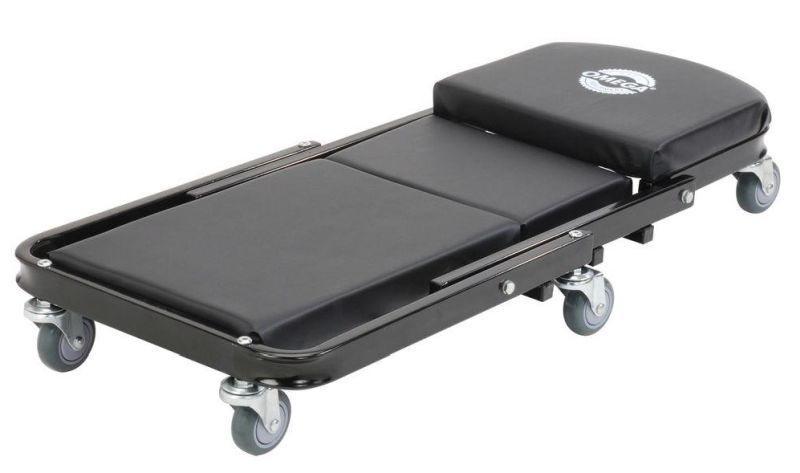 This best mechanics creeper has a great convertible design. It can be changed easily from creeper seat to creeper. The height adjustable creeper is very handy if you're working on brakes and exterior, as well as underneath the car. It can support up to 450 lbs, which is good news if your body build is larger than average. The casters are 3 inches in diameter, ensuring that the creeper will not be stopped by pebbles. The heavy padded upholstery provides maximum comfort. This creeper is best for trucks or larger vehicles, as it has a 6 inch (approx) clearance. The Omega is more suited for professional mechanics.
ADT Tools Convertible Seat and Creeper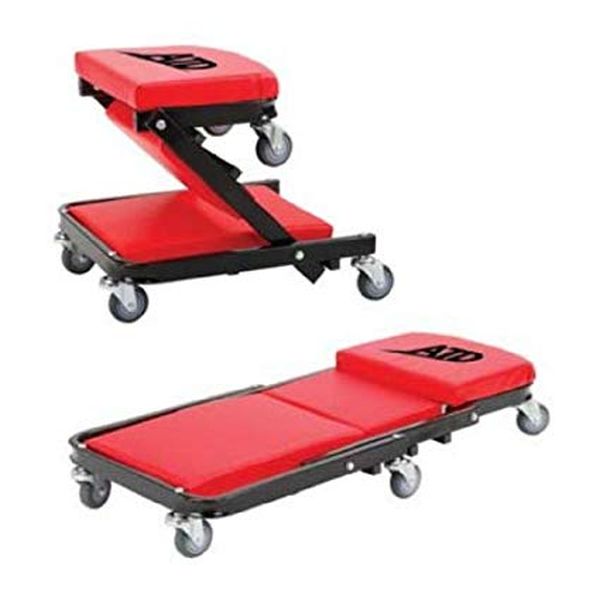 This best mechanics seat 2018 can be flattened into a creeper. The ADT Creeper is durable and efficient for both amateurs and professional mechanics.
Whether you're a professional mechanic or you just like to fix your car as a hobby, a convertible creeper seems to be the best option for you. It will help to avoid spinal problems, whether you're working lying down or sitting in your garage.