EICMA 2018 is a showcase of upcoming motorcycles in production-ready form or in concept. The event has started on 6th of this month in Milan and we will talk about one of its top attractions – Ducati Panigale V4R – first motorcycle from Italian motorcycle manufacturer to boast a four-cylinder engine inspired from the MotoGP Desmosedici. Panigale V4 R is powerful and faster than previous Panigale V4 S. Well, that's what Ducati claims. As per them, the addition of "R" is actually meant for race-spec. We will break the code for you. Read on:
Technical specifications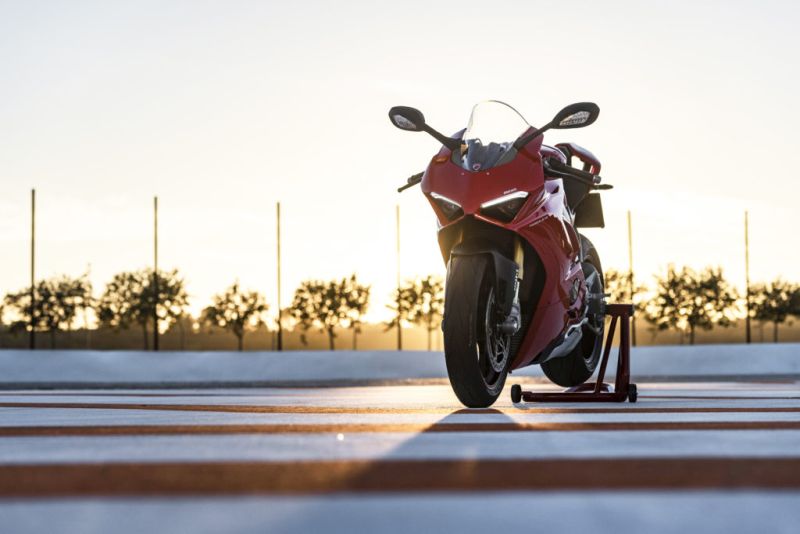 Image Source : thebikeshow.co.za
Ducati Panigale V4R is manufactured as per the requirements of World Superbike (WSBK) homologation. V4 has a displacement of 1, 1103 cc while World WSBK bikes need a displacement under 1, 000 cc. So, here is the latest V4 R that has a displacement of 998cc and more power than the standard V4. The made for track Panigale reaches a maximum of 221 horsepower at 13,000rpm. Still, the handling is easy because of a lightweight engine that revolves faster. The engine produces peak torque of 112nm at 10,000rpm  and revolution limiter only comes in action after 16, 500 rpm. Tuned with 6-speed gearbox it will never say no to acceleration.
Let take some extra dips inside the engine. Forged pistons have only two rings – one oil scraper and another compression. Intake valves and con rods, both are titanium and it has a crankshaft 1.1 kg lighter than one of V4S. Each con rod and alternators are also 100g lighter then V4S ones. Throttle bodies of 56mm bores are again 4 mm higher than V4S.
As compared to V4S, the latest V4 R has better aerodynamics that increases pressure on the front part under extreme braking and heavy acceleration. These features make the V4 R the most powerful motorcycle  in its segment. Even after producing such power, its engine needs maintenance intervals after every 24, 000 km. That's a long ride, isn't, it?
Braking is handled by Brembo Stylema radial-mounted four-piston calipers. Slide and wheelie control are the safety additions. Electronic upgrades include Multimedia Bluetooth system, GPS enabled lap timer and Bosch Cornering ABS. Pit limiter is an important addition that can preset the speed between 40 kph to 80 kph. Slide control, quick-shifter traction control, and power launch control system are the other components.
Exterior
Now, let us talk about its superior body. Brushed steel and carbon fiber come together to give it an aggressive look that will turn heads once it hits the road. Ducati Panigale V4R has a large windscreen and will feature gills on its fairing to allow better cooling of water and oil radiators. With winglets on the front, the bike stands out in its design. You should know  that these winglets provide better stability in case of sudden braking at high speed. What else we need?
We already told you that V4R is a light motorcycle, but can you guess the exact weight. Let us help, the dry weight is only 165 kg. It's time you update your dream bike list.
Other Versions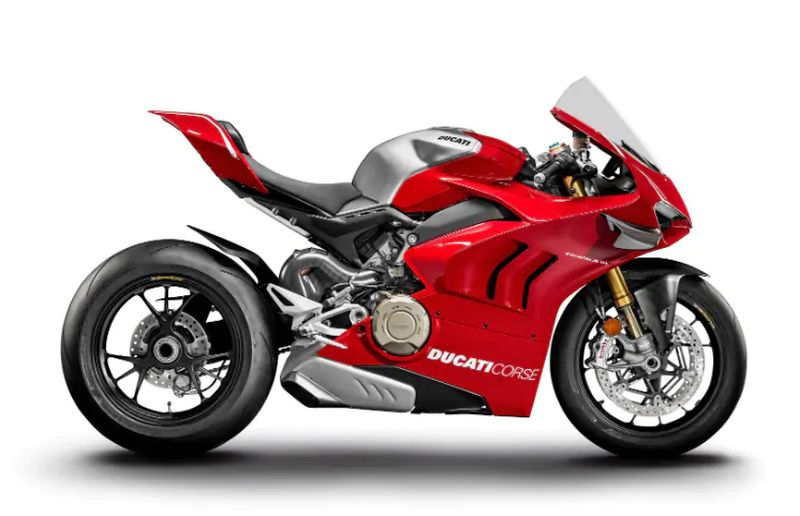 Image Source : c.ndtvimg.com
The beautiful machine will be available in two variants apart from Ducati Panigale V4R. Ducati Corse variant, inspired from the super-bikes that races in MotoGP. Ducati Corse has been associated with V4 R since its inception to include racing technologies in it. Another variant, Panigale V4 Speciale, a limited edition bike will have a titanium exhaust. The made for track Panigale V4 R got race engineered chassis with adjustable swing arm pivot. With power/weight ratio of 1.1 hp/kg, V4 R variants are all to set to raise the bar in the super-bike segment. Ducati has developed a new Front Frame that is compact than perimeter frame. Front Frame and use of other lightweight materials keeps the weight of V4 S and other special versions under 195 Kg.
As we already told you, V4 is already available in S version featuring considerable features including Öhlins adjustable suspension with EC 2.0, forged aluminum wheels, lithium-ion battery and other top of the line components. Its gas powered 43mm front forks are USD titanium-nitride-coated.
Using optional Akrapovic race exhaust system, racers can take the performances even higher, up to 235 horsepower. That's a big jump in the power as compared to anything available out there.
Price and availability
Price is yet to be announced, its estimated price is supposed  to be slightly higher than the standard V4. We are waiting to hear about the same. Once we have the information, we will update you about the same.
Ducati Panigale V4R will be available in 2019 and if you are wondering about its availability in India, then don't worry it will hit the Indian markets in the same year.