Half bikes are a compact and fun way to commute. For a while, the bicycle has ruled because of its efficient and simple form. With numerous modifications that have been attempted to create a bike that is much smaller and easy to carry around, we witnessed the unicycles, tricycles and quadricycles rise and fall. The Half bike is a promising commuter which is here to stay.
German- designed Halbrad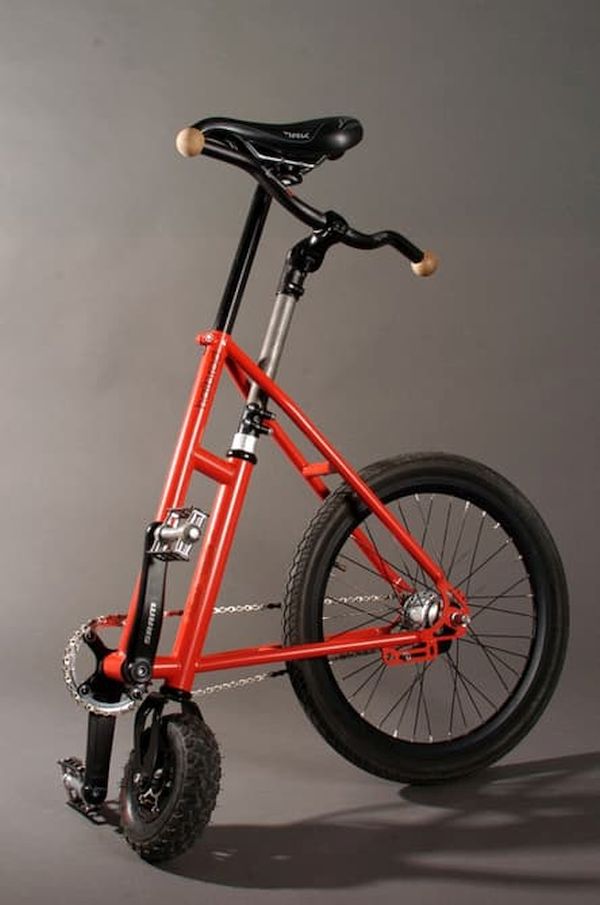 Halgrad translates to half-bike in English, but this bike looks more like a third of a regular bike. Sitting neatly over a reengineered triangle, the bike has two wheels, pedals and handlebars like any regular bike. Easy to commute, carry and store, the Halbrad is a mere 39 in (high) by 31 in (long) and weighs less than 20 lbs. Felix Kruschardt claims that it is much easier to learn to ride the half-bike than a unicycle. The Halbrad has a 35 inch turning radius and is aimed at the metropolitan mobility market.
The Halfbike
A modified version of a tricycle, the Halfbike features a waist high handlebar, making the rider stand in an upright position. Riding the bike is equivalent to a low-impact running workout. Designed for urban commuters, the three-wheeled vehicle is easy to carry around because of its light-weight aluminum frame. Currently gaining support on Kickstarter, this enjoyable vehicle is portable and foldable.
The Halfbike-II
Built in aluminum, this hand-made minimalistic designed bike has the basic principle of a bicycle framed in a completely new design. The Halfbik-II has been designed by two architects Martin Angelov and Mihail Klenov who share a vision to transform urban mobility. Lightweight and easy to carry at just below 18 lbs, this bike provides you with a fun way to move. Available in black and white colors, the aluminum and laser cut add strength to the structure.
Dreamslide's easy ride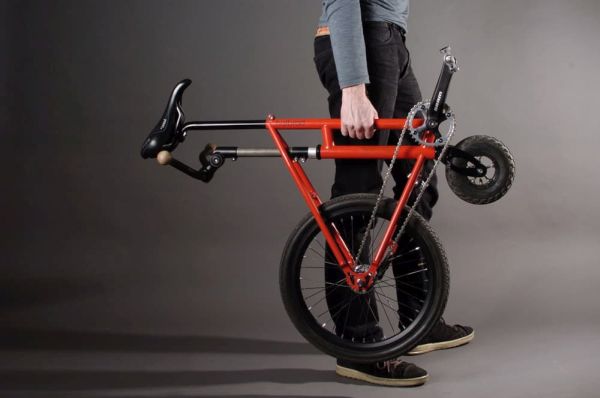 Giving the rider a good workout with almost half the effort invested than the contemporaries is Dreamslide's unique bicycle. The bike is light-weighted and very comfortable to carry around. You could pack it in your car's trunk, drive to a place, and take it out on a ride with no heavy-lifting.  The bike is a single-speed vehicle meant for casual rides.
Occam Cycle
A bike that is easily transformed into a light-weight portable mobility tool by simply folding, Occam Cycle by Great Scott Technology is one asset for the every-day urban commuter. The bike has bullhorn handlebars that can be adjusted according to the rider's height.
Because the most common issue that other foldable versions of a bike had, was the time-consuming and hectic process of folding and unfolding, the makers of Occam came up with a plan to eliminate the seat from the design altogether. This greatly helps with making the process of folding and unfolding shorter than five seconds, while greatly reducing the weight of the frame, all in all enhancing comfort and portability.
The Aeyo
This clever mix between a scooter, a cycle and a skate can be enjoyed by anyone who has aliking for any one of its predecessors. According to the founders, this is the future of commute and exercise.
The Aeyo takes the handlebar, brakes, lever and basket from a bicycle and attaches it to skates in the steering column. These skates are compatible for all foot sizes and engage the rider's feet to be used in skating motion. While on a traditional scooter the rider only uses one leg to propel, the Aeyo facilitates the rider to use both legs at the same time.
We love the traditional bike, but some interesting designing innovations have led to these modern era mobility utilities. By cutting down on size and weight, these half-siblings of the traditional bicycle add fun to commute.
Source : Gizmag.Com