The 2014 Ford Fiesta ST is a compact sedan with power packed features. This 5-door hatchback is equipped with enhanced Torque Vectoring Control or eTVC, which makes the drive smooth and pleasurable. Although big cars are more famous in America but Ford Fiesta ST tends to break this trend and is able to attract the people's attention thanks to its style, power and technology used to produce this car. Let's take a quick look into its specs and find out what all it has to offer.
Externals
The 2014 Ford Fiesta ST has a length of 160.1 inches and is 67.8 inches wide. As it's evident from the specifications it's a small sedan and as per EPA certification it comes under the category of Subcompact Cars. The car is available in several attractive colors such as Race Red, Performance Blue, Oxford White, Tuxedo Black Metallic, etc.
 Internals
This car is equipped with a powerful 1.6-liter, 4-cylinder engine, which generates 197 horsepower running at 6350 rpm. The 2014 Ford Fiesta ST is basically a front wheel driven vehicle, which adds to its acceleration and power. This car can zoom from 0 to 60 mph in just 6.7 seconds, which makes it one of the fastest cars in its category.
 Transmission and other features
This car is equipped with 6-speed manual transmission, which is a bit out of sync since automatic transmission is always preferable. Although this car is small in size but it can easily seat 5 passengers, which makes it a valuable car for a small family. As per the EPA ratings, this car can give a mileage of 27 mpg in city while on highways the mileage can go up to 35 mpg.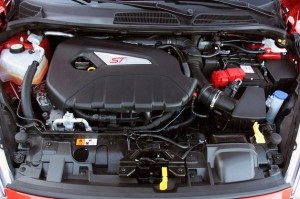 Closer Analysis
As far as the safety of passengers is concerned, this car does no compromise. The 2014 Ford Fiesta ST is equipped with ABS and AdvanceTrac Electronic Stability Control (ESC) for additional layer of stability and control. This car is also equipped with side impact beams to absorb any kind of impact arising laterally.
Apart from this it is also equipped with a high quality Sony AM/FM stereo system for that unmatched sound quality you always wanted to have in your car. Not only that, it also has a voice activated entertainment and communication system so that you never get bored while driving.
 Price and Availability
The base price of this vehicle is $22,195. If you go for any additional accessories and options then the price will increase depending upon the chosen features.
Verdict
Mileage and driving comfort play the decisive role when a prospective customer makes up his/her mind to buy a car. In both the areas mentioned here, this car scores high point. Not only that, this car is backed by eminent company such as Ford so it's for sure that the customer service, once the car is bought, shall be world class.