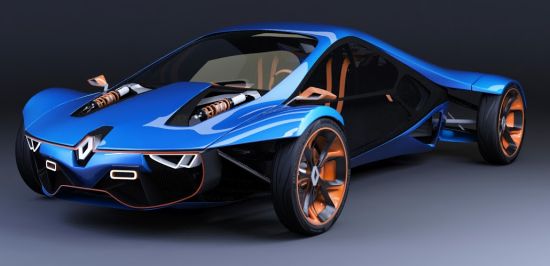 With the advent of technology in the auto sector, there are increasing numbers of cars that boast more power, better handling and, of course, more speed on track than their predecessors. However, if they are more exciting to drive remains questionable. Keeping this thing in mind, Polish designer, Konrad Cholewka, comes up with an exciting concept that not only offers more customizable features but, above all, the ease of driving.
Concept is christened as Renault Fly and was created as a lightweight sports car for his degree project. Renault Fly concept is made to offer the pleasure of driving a true sports car and it uses a base on which some different cars can be made. What makes it standout from the cars currently available in the market are its distinctive features that include use of super lightweight material in its making, low rider's position and low glazing which makes it a very exciting vehicle to drive.
It also features a frame with exposed components that enables the rider to adjust vehicle as per his/her likings. On the top of this, you can change the form of the vehicle for it features the removable components. For example, if you want to drive a buggy off-road, Renault Fly concept can be converted to suit the purpose. All you need to do is to go to the Renault service station and change the elements like wheel arches, tires, put body and windows off and finally lift up the suspension. But in this case too, the engine, suspension, chassis etc remains the same.