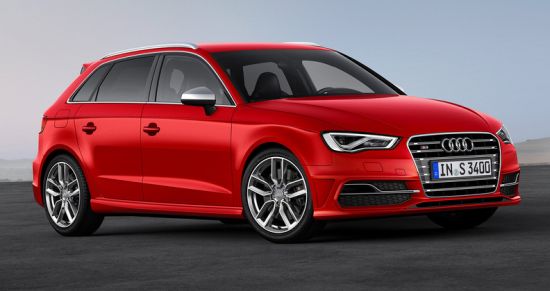 The list of vehicles unveiled ahead of their debut at the forthcoming Geneva Motor Show is getting longer with each passing day. One of the latest entrants to the list is Audi's S3 Sportback that gets power from the 2.0 TFSI four-cylinder engine rated at a cool 300hp and 280-pound-feet of peak torque.
Engine is aligned with a six-speed manual gearbox which comes as standard and a six-speed dual-clutch S-Tronic gearbox is offered as optional. Audi S3 Sportback sprints from 0-62 mph in 5 seconds when S-Tronic gearbox is involved, whereas with the standard gearbox it's little slower at 5.5 seconds to achieve the same feat. The top speed in both versions is electronically limited at 155mph.
The fuel consumption also varies with both the gearboxes. In the manual gearbox version, S3 Sportback consumes 6.9 liters per 100 km when S-Tronic gearbox is used and 7.0 liters per 100km it travel in the manual transmission mode. This means, the latest engine sips 1.5 liter less fuel for every 100km it travels in comparison to the previous S3 Sportback model.
Other noticeable features includes Quattro 4-wheel drive, sports tuned suspension, LED daytime running headlights, grey wing mirrors, diffuser mounted oval shaped four exhausts, 18" wheels with 225-section tires and 13.39-inch front brakes that plays a major role to bring it to a halt. The curb weight of new Audi S3 is 3,186 pounds which is less 154 pounds less than the outgoing model, thanks to Audi's weight saving measure.
The last generation S3 wasn't offered in the US market and Audi hasn't given any indication whatsoever if this one will be. Audi S3 will debut at the forthcoming Geneva Motor Show and to go on sale this September with an expected price tag of £34,000 which equals to USD 52710 at the current exchange rate.