When it comes to car art, the ideas are as endless as your imagination. Creative artists and DIYers from all around the globe have shown their ingenuity at its best by turning cars into amazing works of art. From artsy stickers to sculptures to unusual graphics, there are stunning examples of car art that are sure to interest the auto aficionados. Hit the jump to see them all.
1. Scott Wade's dirty car art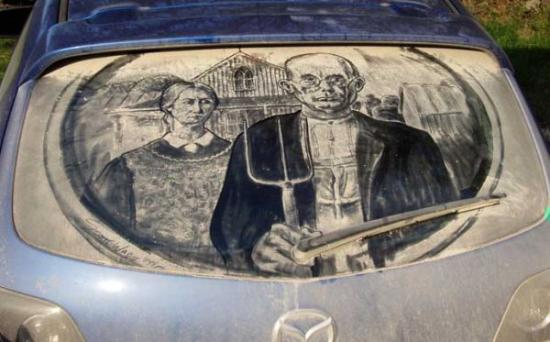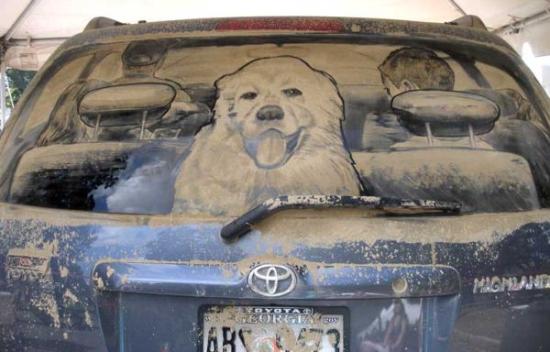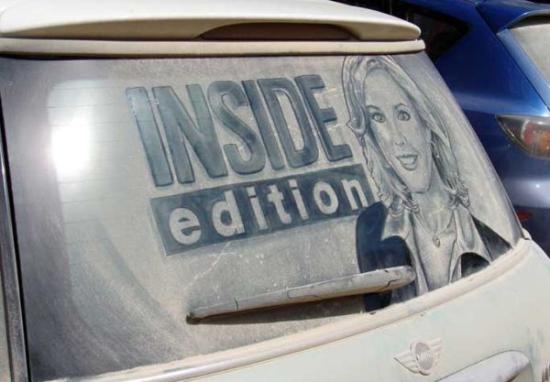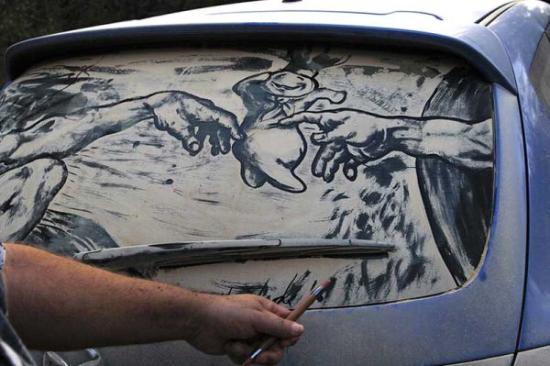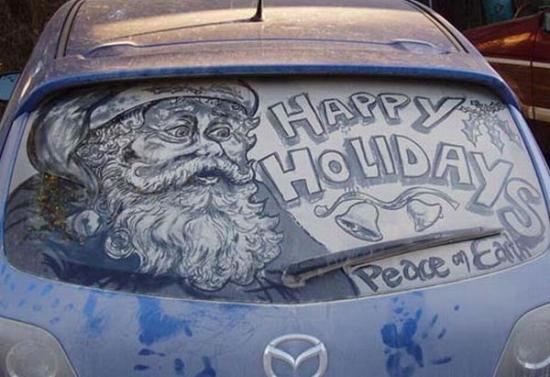 Dirty cars don't look good, but Texas based artist Scott Wade (aka "Da Vinci of Dirt") thinks the other way. The ingenious artist does amazing artworks on the rear windows of dirt-covered cars. His dirty car artworks mostly include famous celebrities and cartoon characters. Wade's dirty cart art is temporary and is washed away when it rains. This way, he gets to create a new masterpiece every time.
2. Cadillac Ranch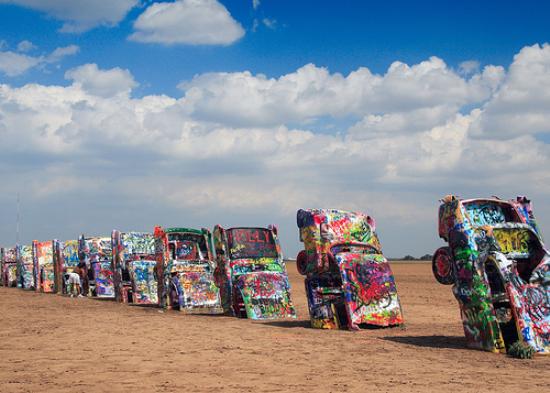 This is one of my favorites when it comes to amazing car art. Billionaire Stanley Marsh created the Cadillac Ranch in Amarillo, Texas in 1974 along the historic Route 66. The car art was done to pay tribute to the golden era of American auto industry. The work includes ten Cadillacs, which have been buried half into the ground and are done in multi colors and graffiti. If you happen to visit the site, do not forget to spray paint them to your liking.
3. Carhenge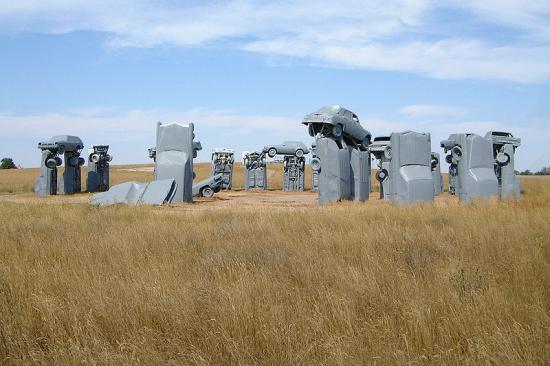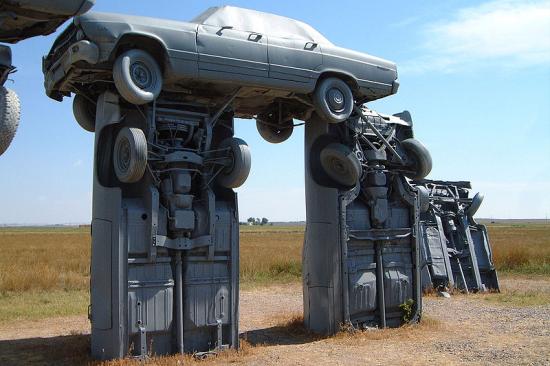 This is yet another amazing car art sculpture from Alliance, Nebraska. Carhenge is a replica of England's Stonehenge located near the city of Alliance, Nebraska on the High Plains. It has been made from vintage American automobiles, which are all covered with gray spray paint. Carhenge comprises 38 automobiles resting in a circle.
4. Spindle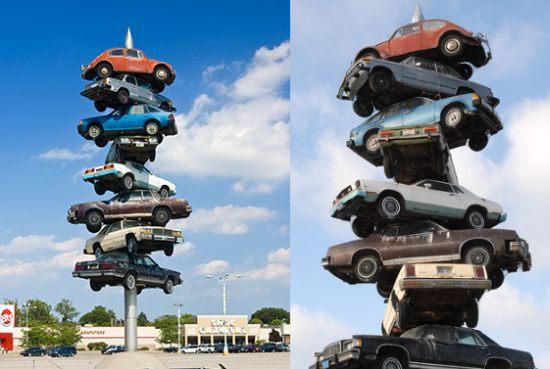 Done by artist Dustin Shuler, the Spindle is an intriguing sculpture that features a 50-foot spike with eight resting on it. The sculpture was demolished on May 2, 2008.
5. BMW M1 by Andy Warhol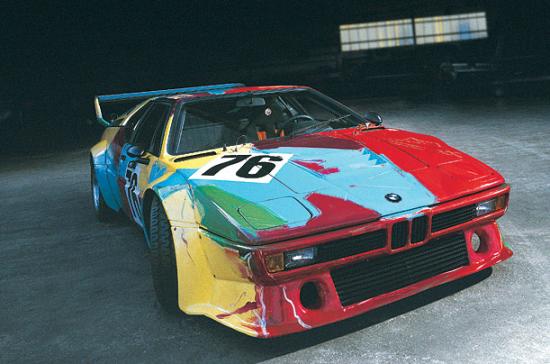 Back in 1971, famous artist Andy Warhol painted himself a BMW M1 for the 24 hours at Le Mans. The car finished in 2nd place at the race. The artwork was done in mere 23 minutes.
6. BMW art car by Jeff Koons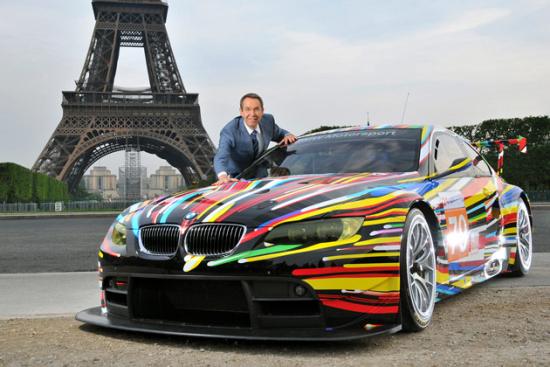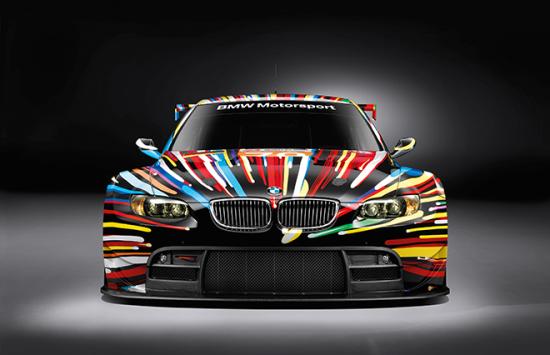 Created for 24 hours of Le Mans in 2010, this BMW M3 GT2 was painted by renowned American artist Jeff Koons. He used a multicolored theme, so that the unique artwork could be photographed in the best way.
7. Dragon cars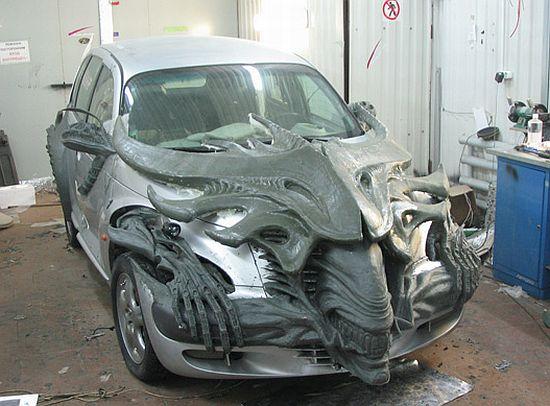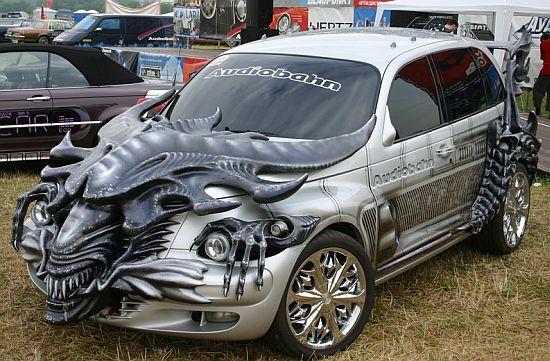 For those who are looking for something bold and beastly, here are the Dragon cars from Krasnoyarsk, Russia. The wild car art has become quite popular among the youth in this small town.
8. Concrete BMW Z4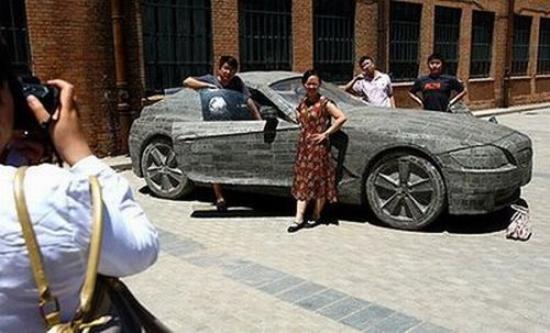 A perfect treat for the Flintstones of the modern era, this BMW Z4 has been done in concrete. The stunning replica was showcased at the BMW Art Car exhibition in Beijing, China. Interestingly, the artistic beauty enjoys fully functional front doors and glass panes for the windscreen and windows.
9. Mercedes Benz 300SL Gullwing white gold car sculpture
This is a recreation of the legendary Mercedes Benz 300SL Gullwing in the form of a sculpture by Swiss artist Dante Rubli. The artist is famous for his excellent works of art done with materials like gold, wood, steel and platinum. This sculpture was showcased as a 1:1 scale model and 1:2 scale model in 2009 at the Top Marques Monaco. The amazing sculpture was done with hands, white gold leaf and even boasts a lighting system that could be controlled remotely.
10. Mario-inspired car art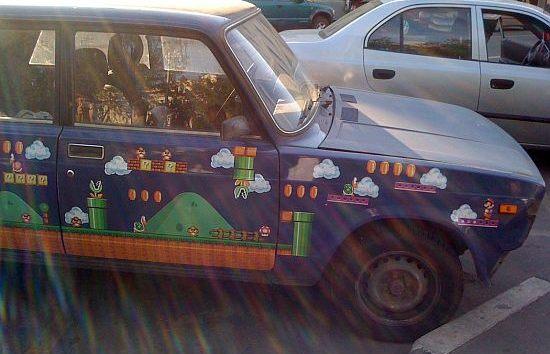 For an auto fanatic who happens to have a keen interest in video gaming, here is the Mario inspired car art. Christened Mariomobil, the amazing gaming inspired car art was spotted in Russia.
11. Chinese artist converts cars into canvases on wheels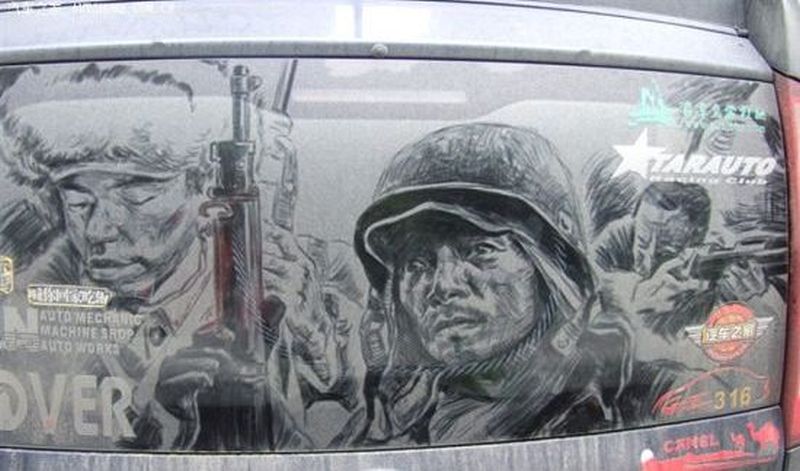 Dirt art isn't new to anyone of us. However, there are a few artists that actually are the masterminds of the dirt car art. There are a few literally and the most recent entrant to the league is from China. His dirt car isn't just a beginners but it's impressive too, I must say.
The resident of the Guiyang city in China has a knack and penchant for painting in the dirt on his windows. His desire is supported by the ever rising dirt on the Chinese roads. As a result, he is successful in painting General Patton, and a Chinese soldier from the Chinese war drama.
The art is for art sake and this man has really done a great job by giving his thoughts a form through his paintings on car panes full of dirt. He has done a great job in converting the cars into canvases on wheels.
12. Hamann converts McLaren MP4-12C into an art car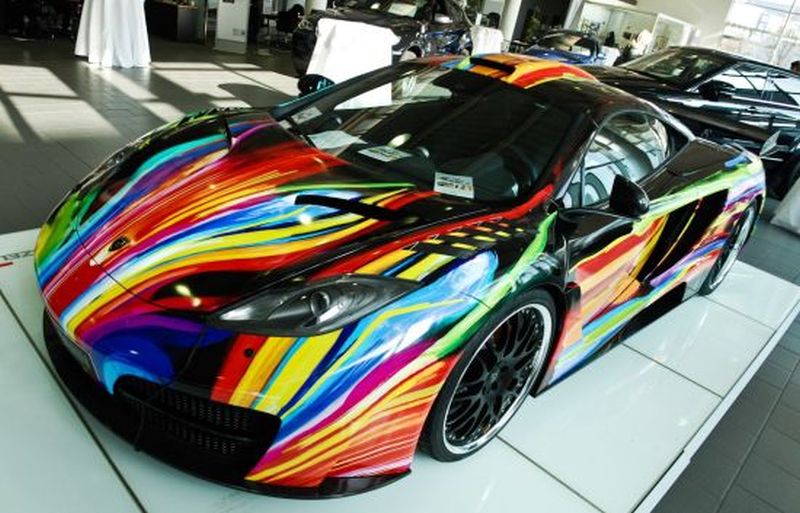 German tuner, Hamann, is famous for surprising everyone with its spectacular works and outlandish projects. So, it comes as no surprise that tuning house has come up with an art car based on McLaren 12C Coupe. Christened as Hamann memoR MP4-12C, the McLaren coupe is painted in a livery similar to what we saw on BMW GT2 Art Car by Jeff Koons, displayed at 2012 London Olympics.
The McLaren MP4-12C art car was on display at a local dealership in Vienna where Hamann tuned Range Rover Evoque Widebody and BMW X6 M based Hamann Tycoon Evo M was also on display. Hamann gives a complete new makeover to McLaren MP4-12C art car in the line of F1 with the addition of functional and design aspects of F1 car from McLaren and GT3.
The German tuning house also added MP4-12C art car with larger front splitter, wheel arch forced ventilation, revised side skirts, large rear wing, roof air duct and extended rear diffuser. Apart from this, a newly designed rear fender that starts from rear window and goes all the way to wheel arch and the widened tail which is blended with new rear diffuser and triple exhaust. The car is finished in black paint with red stripes on the whole exterior and the McLaren art car runs on 21" wheels.
13. BMW 650i Gran Coupe art car is a sheer mess of colors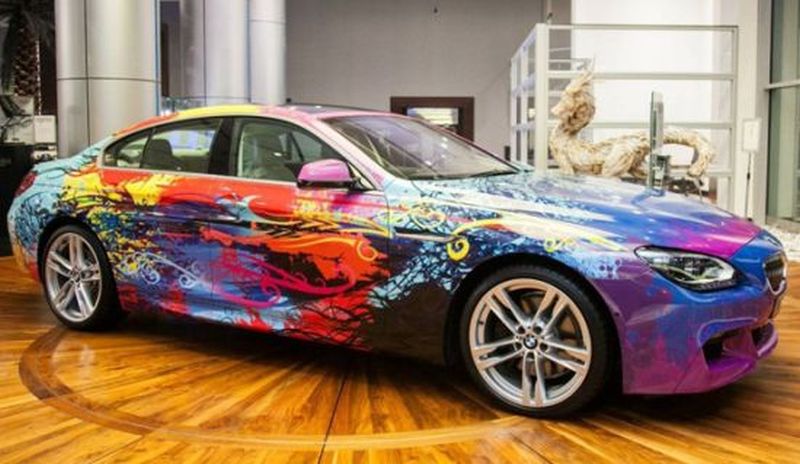 BMW is pioneer and famous for creating one-off art cars by commissioning some of the most renowned artists from all over the world to leave everlasting impression on its cars. However, BMW's official art cars don't come too often. So it's too tiring for some of its fans to wait for BMW art car, particularly when art cars are all the rage lately. Something similar happened to an Abu Dhabi based dealership, Umm Al Nar.
As the Mideast dealerships are famous for the eccentric makeover of cars, this BMW art car is no exception. The Umm Al Nar dealership gets this car painted with weird color combination for its event called 'The Road is your Easel' that goes until December 6. The color combination might not be as impressive as in Jeff Koons' BMW M3 GTS art car and it seems that someone drove the BMW 650i Gran Coupe through a paint store.
The cacophony of colors starts with purple and blue combination at front that seems to mess up with many other colorful hues it finally reaches to the rear end of 650i Gran Coupe. What inspired the creator to add innumerable hues to the BMW 650i Gran Coupe is simply beyond us, especially when the BMW 650i Gran Coupe flaunts impressive design and offers spectacular performance that comes from a 4.4-liter V-8 engine rated at 445hp and 480 pound-feet of torque.
14. Artist nails full size Mini Cooper S sculpture from 7000 nails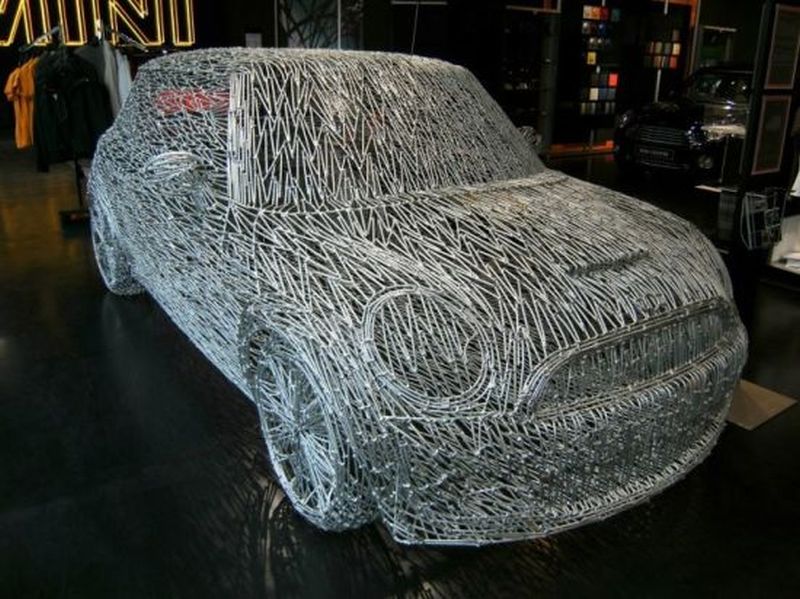 From wooden cars to functioning Lego replicas to amazing car art and some other creations from scrap auto parts, we have seen them all. The creations are simply fabulous and mark the ingenuity of the creator. Adding to the long list of beautifully sculpted art cars is this Mini Cooper S transparent sculpture of 2008 model, created using nothing but nails.
The Mini Cooper S sculpture comes out of the skilled hands of Munich based sculptor Alexander Geissler who toiled hard for 200 hours to meticulously shape this amazing feat, while keeping in mind the details and proportions of the original car.
In order to give Mini Cooper S a nailed treatment, Alexander welded approximately 8 inches long, 7000 nails together to create a sculpture that measures 3.63 meters in length, 1.68 meters in width and 1.43 meters in height. Almost identical in size to Mini cooper S, the total weight of the sculpture is 300kg. However, it remains an art for art sake but  is a beautiful imagination for sure.
15. German artist re-imagines Lamborghini Countrach with Lego Bricks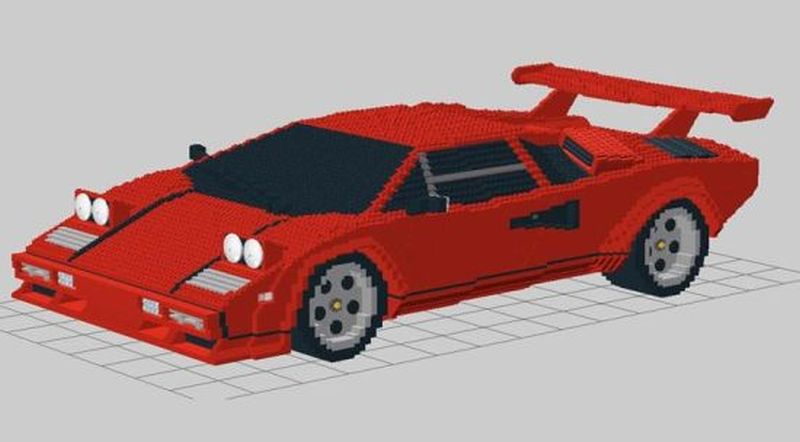 After introducing you to some of the coolest Lego creations a while ago, here is another addition to the long list and it's mind blowing. The iconic Lambo model of 1980s has been re-imagined and recreated using Lego blocks. German member of Eurobricks.com who has a display name as George creates this amazing piece of Lego art.
He started building one while using 1:18 Kyosho scale model of Countach as template, but used a computer program later on to delineate the construction of a grand scale Countach back in 2007. After three years, he started looking for necessary pieces of Lego to create this piece. After collecting the pieces and all the information, the artists assembled the Lego Lamborghini Countach in two weeks.
This meticulously detailed model flaunts raised spoiler, rear air scoops and even the pop-up headlights. However, we don't have the full information as to how many Lego bricks has been used to give form to this incredible piece of art, but the efforts are really commendable.
16. Laurence Gartel's 1982 Mercedes 380 SL is a rolling piece of art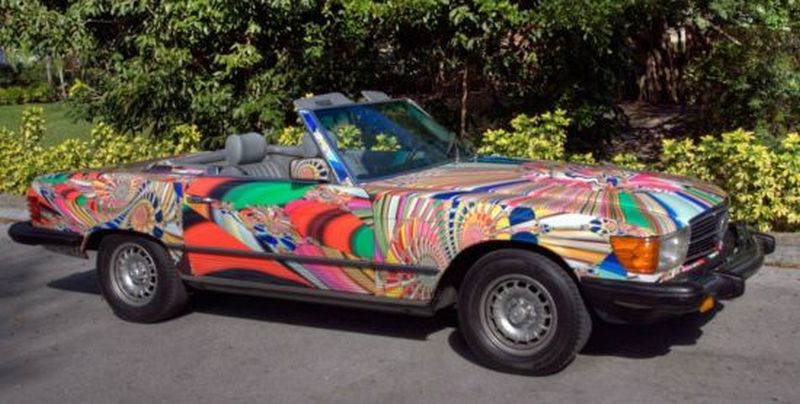 Artist Laurence Gartel has already impressed us all with his take on Tesla Roadster in 2010 and Ferrari 430 Scuderia in 2011. He converted them in the rolling pieces of cars altogether. This year, the creative genius is here to impress us all with his psychedelic wrap on the Mercedes 380 SL.
Called as the Mercedes 380 SL psychedelic wrap, the hippie Mercedes from 1982 is wrapped in psychedelic is to be unveiled at the upcoming 2013 NY Auto Show. Though the details of the art wrap are scant at this moment of time, but autoblog.nl uploaded its first images to clearly give insight as to how this old Mercedes looks.
The wrap continues from the exteriors and interiors as well. The Laurence Gartel's take on the Scuderia 430 Ferrari made it worth $ 1 million, now it remains to be seen how much tag does this arty Ferrari 430 Scuderia will bear.
17. Bugatti Veyron Grand Sport Venet art car coming to Art Basel Miami Beach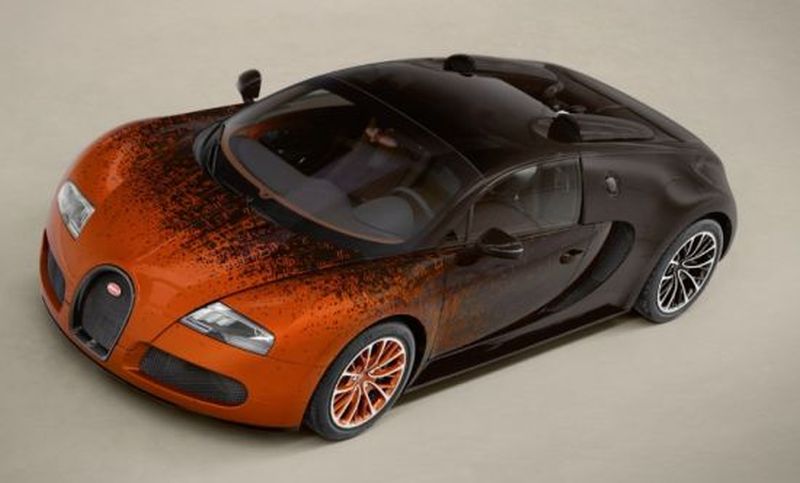 Bugatti Veyron remains exclusive – be it aesthetics, power, performance or price. There is no alternative of this car in the world. The most beautiful beast among the cars is produced in limited numbers and there are also a few special editions built specially for the prized customers. One of these special editions is this Bugatti Veyron Grand Sport Venet which can rightly be deemed as the "fastest artwork ever".
Bugatti contacted New York based French conceptual artist BernarVenet to create something unique for Bugatti Veyron for Art Basel Miami Beach event which is to take place this week. Hence, the Venet in the name of the car. BernarVenet is famous for creating unique art pieces with considerable influence of mathematics and science. The peculiar feature of this special edition is the artwork inside and out. The Veyron Grand Sport Venet also has dozens of mathematic and scientific formulas running from the front of the car and over its flanks.
What's more interesting about this car is it has all the formulas that Bugatti engineers used when developing the Veyron. Venet's theme for Bugatti has a base coat of black paint, front is painted orange that jells well with two colors into mathematical iconography. The same theme continues inside, as the door panels are covered with bright orange formulas, so is the dashboard and leather is trimmed with more of a rusty looks.
Just to recapitulate for ardent fans, Bugatti Veyron Veyron Grand Sport Venet is based on Grand Sport version. With 8.0-liter W-16 engine that generates 1001hp takes it all the way to touch a top speed of 252mph but with its removable roof detached the speed is confined to 224mph. With these performance figures, immaculate design, Bugatti cars are already considered the pieces of art. However, Bugatti Veyron Grand Sport Venet is the most unique of them all.