We've seen our share of customized vehicles before, but when it comes to being decked out with aesthetic appeal, fantastic amenities, and being larger than your average street car, do you know which vehicles take the cake? We're going to run down some of the best, large vehicles that are out on the roads today, along with some of the common customizations their owners like to perform.
Custom Pickup Trucks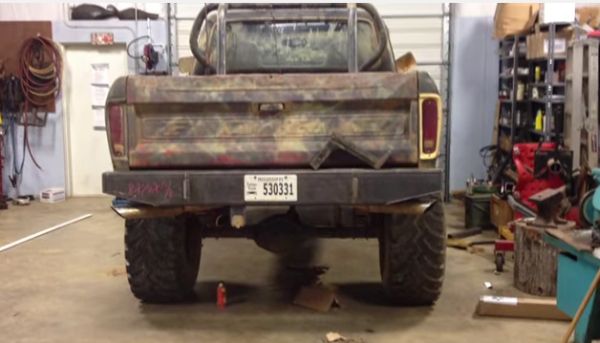 These behemoths can come in different shapes and sizes, but they're almost always supremely cool. On their own, pickups are already rugged and intimidating. What sort of upgrades can be added to give them, even more, personality?
A new bumper – Regarding aesthetics, the individualized bumper is one of the most immediately recognizable features. Bumper upgrades made from heavy-duty steel and crafted with the use of CAD technology can be welded right onto the front or back of a pickup truck, with accessories like light holes, and winch mounts. While they're at it, they might even throw on a custom grille as well to give the truck some more flair.
Big wheels – While they're tending to the outside of their vehicles, many custom truck enthusiasts will take the time to add some big specialized truck wheels: new rims, off-road tires, the works.
Custom truck suspension – Whether they're lowering or raising it, the suspension is likely going to be altered. There are many kits and ready-made solutions that custom guys use, and some go so far as to craft their own. The result? Two of the most visually impressive looks: the low-rider pickup truck, or the highly exaggerated off-road style pickup that necessitates a ladder for entry!
A new air intake – For improved horsepower and performance, an aftermarket air intake is one of the first additions that custom truck owners will add to their vehicles. They're relatively easy to install, and deliver greater amounts of air to the engine, translating to increased horsepower, improved torque, and an increased throttle response.
Custom dashboard – No custom truck enthusiast is going to keep the stock interior. The dash insert is usually upgraded with a new specialty material. Sometimes steel or another sleek metal that gives an industrial yet futuristic appearance.
Custom SUVs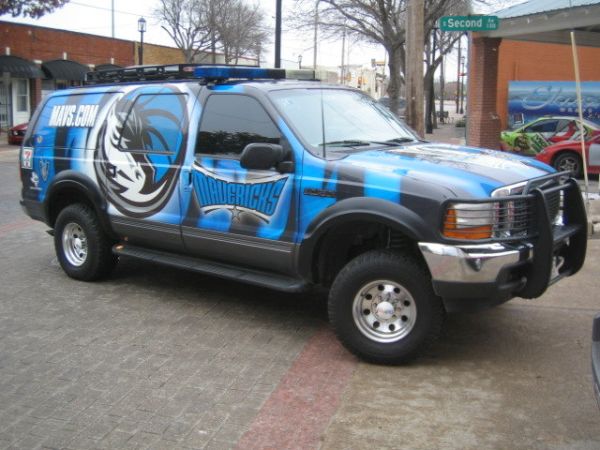 Image Source : SkinzWraps.Com
Close kin to the custom truck, but with more passenger space. Custom SUVs can incorporate many of the same upgrades as the custom pickup, but also have a few more options that are more applicable to their interiors, depending on whether the owner is going for the rugged off road look or the sleek city look for their SUV.
Roll cage – For additional safety and extra protection, a roll cage transforms the SUV from an everyday street vehicle to a civilian style urban assault vehicle or full-fledged off-road machine when coupled with some suitable off-roading tires.
Suspension lift – Most SUVs favor the suspension lift to make them more suitable for going off the beaten path. There are options for lowering the suspension though for customizers who intend on remaining in the city.
Wood dashboard trim – On a pickup, it might look a bit too ostentatious, but on a city-style SUV, replacing the hackneyed fake wood grain with some genuine wood trim looks quite cool.
Party Buses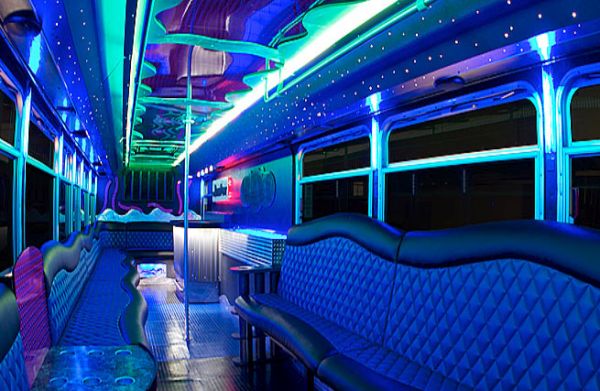 Let's not forget these parties on wheels. We've all seen custom limo interiors that look like nightclubs. Party buses take it to the next logical step, by adapting the interior of a fancy limo and changing it to a much larger custom bus interior. Party bus rentals are used for weddings, proms, transport to and from the nightclub, or just as a vehicle for hire for those that want to party, and there are even tutorials on how everyday folks can make their own – definitely a sight to behold. What will you find on the inside?
Comfort seating – Gone are those uniform fabric bus seats. The party bus features all manner of uniquely shaped lounge seating in high-grade materials like black leather.
Custom lighting – To truly sell the party vibe, many party buses will incorporate multi-colored interior lights. The flood of neon colors really sets the tone for a ride to the club.
Custom flooring? Might as well do it big. The floors on the party bus are also usually installed with a custom material like steel or lacquered wood. A very nice touch that completes the ambiance.
These customizations and more elevate large vehicles to be the most stylish on the road today. Go big or go home, right?
Article Submitted By Community Writer